Act!onHeat Training Programme successfully launched!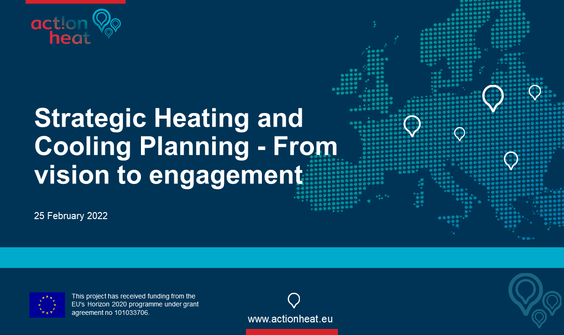 The Act!onHeat Training Programme has successfully launched! The free Training Programme is open to all staff from energy agencies, regional and local governments, and experts interested in strategic heating and cooling (H&C) planning, building on the well-established, open access software Hotmaps and THERMOS.
Last week, the first out of the three online sessions explored the vision and stakeholder engagement strategies in H&C planning across Europe as well as released the results of the Act!onHeat meta-study.
Alis-Daniela Torres (ICLEI Europe) opened the session by looking at the importance of vision, commitment, and mobilisation in setting-up a strategic H&C plan as well as shared inspiring cases of cities leading by example. She then broke down the top 3 reasons why H&C planning is relevant today, highlighting energy prices, the EU thermal energy consumption share, and energy poverty. 
The session continued with Juan Varo López (CREARA) discussing the importance of establishing a thermal stakeholder group and engagement concept. In doing so, he emphasised 6 key stakeholders to engage with in H&C planning: Local Governments, Regional Governments, Businesses, End-Users, Finance Institutions and Experts.
Markus Fritz (Fraunhofer ISI) closed the session by releasing the results of a meta-study that Act!onHeat conducted to determine the success factors of H&C planning across Europe. The results listed CO2 neutrality as the top objective for local heating and cooling plans.
Interested to dive deeper into these topics? Check out the session recording and full presentations here.
Ready for more? The second session of the Training Programme will take place on 17 March at 10:00 CET and will explore different approaches of effective data gathering for strategic H&C planning and decision-making processes.
Register and learn more about the next sessions here. 
Subscribe to our Newsletter

This project has received funding from the European Union's Horizon 2020 research and innovation program under grant agreement No 101033706. The sole responsibility for the content of this website lies with the Act!onHeat project and does not necessarily reflect the opinion of the European Union.